PRODUCT DESCRIPTION
The 53CO is a non-insulated flush door with inward and outward opening. Frame and sash are 53 mm deep.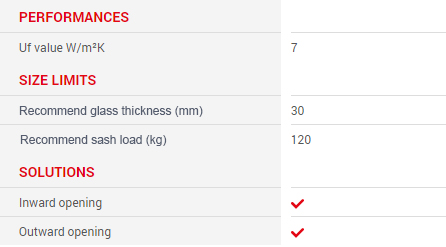 This series has been designed to offer top-quality door sets with complete machining and fittings (sill profiles, plugs). The 53CO is compatible with simple or safety "multipoint" door locks to improve burglary resistance.
DESIGN FEATURES
Tight seal with double rebate gaskets along the perimeter.
Frame and sash : 53 mm
Traditional shape
Flus door, both inward and outward opening
Squared, smoothed or rounded glazing beads
Glazing thickness : 4 to 30 mm
OPTIONS
security glazing beads for greater burglary resistance
full range of colors available
1 and 2 sashes
Outward/inward openings
swing doors, fixed panels, overlight, bottom hung, storefronts.
APPLICATION TYPE
Residential and commercial sector applications, like apartments, villas, hotels, stores, etc.
This post is also available in: Vietnamese